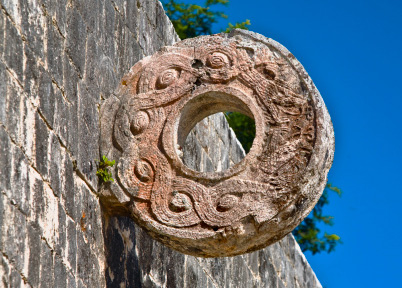 The flat court itself is a mirror of the numerical values of the adjacent pyramid of Chichen Itza, divided as it is into 99 squares, a number which coincides with the calibration of 8 lunar cycles with the solar calendar. The very same unit is found in the world's largest stone circle, Avebury, and was used for the same purpose. The idea was to remind the player-initiate that the human body is the measure of the masculine Sun and feminine Moon. Some folk dances of Mexico are faint echoes of this celestial drama.

No wonder the ball court itself was seen as a figurative entrance into the Otherworld: the winner discovered the Mysteries of life, and by this connection with all levels of reality, he or she was thus enlightened. The Western expression for this ritual of initiation was 'raised from the dead'.

With its playing area divided into squares, the Olmec/Maya ball court may be a variation of the board game of chess, which originated in China. The unusual moves of each chess piece are designed to illustrate the laws of interaction between the invisible and causal worlds. They depict the motion of Creation itself. Some master players even learned to play chess blindfold to demonstrate their ability at connecting with a more intuitive level of reality. The connection with the ball courts of the Yucatan is that in 600 BC chess reached Persia, referenced in a romance called Karnamak-i-Artakshatr-i-Papakan, whose hero is noted for his abilities in ball-play.

It's not the first time a cross-cultural connection with Persian mysticism appears in the Americas: around Lake Titicaca, the carved portal of Amaru Meru has a counterpart in Anatolia, along with etymological roots, while at Tiwanaku, a bowl discovered in the silt features a cuneiform alphabet only found in Sumeria.

With the later degradation of civilization around the time of the arrival of Conquistadors, the original and spiritual meaning of the ball courts was already on the wane. One man's god became another's devil, and the unusual friezes depicting a strange and seemingly brutal sport were taken literally. But in truth the game was metaphorical, it was meant to teach initiates of the temple the greatest game of all: the game of life.

© 2015 Freddy Silva. Ball court photo by Andre Moller, Wikipedia Commons.

Return to Articles.